Recipes
Gluten Free Brownie Recipe
Our gluten free, flourless brownie is the bedrock of our company: it's the foundation on which we built our wheat free house of cake over 12 years ago, and remains one of the best-selling cakes we've ever produced. Because of the simplicity of this almond flour brownie, it's so important to get the ingredients right. Variables outside your control will always affect the final result – the moisture content of the butter you use, the coarseness of the ground almonds, the acidity of the chocolate you choose or the accuracy of your oven – but if you start with the good stuff, at least you'll always know it's gonna have banging flavour. So find yourself some single-origin chocolate, some real butter and high-quality free-range eggs, and get stuck in.  Click here to try our bestselling brownies.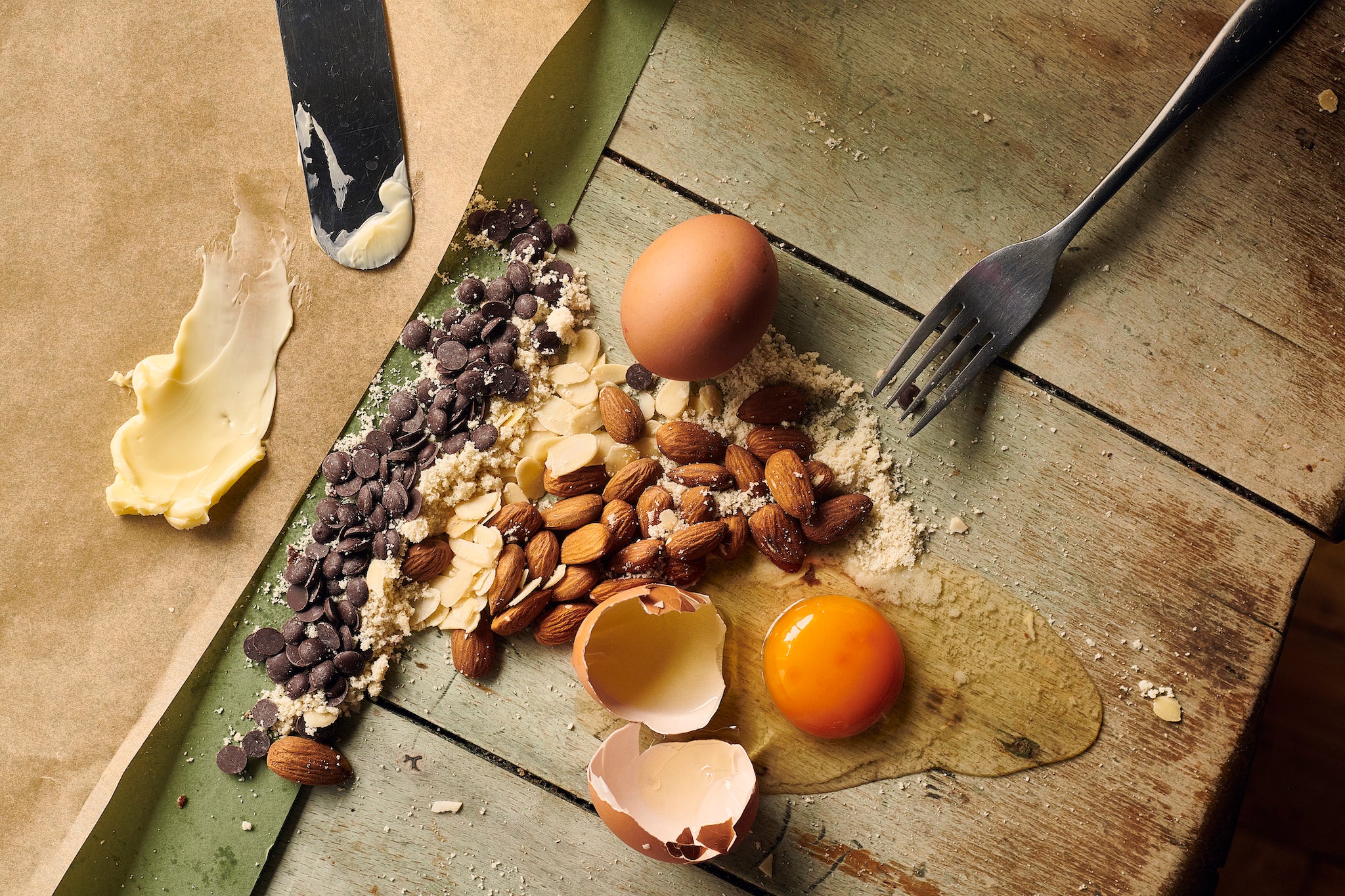 Gluten Free Brownie Recipe
Prep time - 20 minutes

Cooking time - 30 minutes

Difficulty - Easy

Portions/ Servings - 16 to 20 people

Storage - Ambient, Fridge or Freezer

Shelf life - Weeks

Gluten Free/ Wheat Free/ Flourless
Gluten Free Brownie Ingredients
Hopefully you have some of these ingredients in your store cupboard already. If not, here's a breakdown of what you need and things you may need to add to your shopping list:

Chocolate - Go for the best you can get and go dark 60 to 70% cocoa solids
Butter - Salted is ok, but just leave out the teaspoon of salt, try to avoid butter substitutes, really there is no substitute
Sugar - Some sweetness is needed a fine caster sugar dissolves quicker than a coarse granulated kind
Eggs - A good egg will give you better baking results, and really fresh eggs can lend lightness to your bakes. medium - sized egg weight 50g (1¾oz), making it easier to calculate adjustments and ratios.
Ground Almonds - This is to add structure and nut flour is very tasty too, try hazelnut also if you can get your hands some
Salt - This is a flavour enhancer and will make it all taste even more chocolatey


375g (13¼oz) dark chocolate, broken into pieces 

375g (13¼oz) butter

300g (10½oz) caster (superfine) sugar

6 medium eggs

225g (8oz) ground almonds

1 teaspoon salt
Method
Preheat the oven to 170°C fan/ 340°F/gas 5 and line your 22 x 33 x 5cm (8½ x 13 x 2in) baking tray (sheet pan).

Melt the chocolate and butter together in a bain-marie stirring occasionally until they are combined and silky smooth. 

Pour the melted chocolate and butter into a large mixing bowl or the bowl of your stand mixer, then add the sugar and give it a quick mix, letting the sugar dissolve a little.

Now add the eggs and beat until the mix emulsifies.

Finally, fold in the ground almonds and salt until fully combined, then pour the batter into your lined tray.

Bake for 25–30 minutes. The brownie should be just cooked when you take it out, with a little wobble in the middle.
Serve hot with ice cream or cool with lashings of cream. Best eaten still warm in the middle. This will keep for weeks or months in an airtight container in the fridge.
Baking Tips
Emulsify. Emulsification is just a fancy word for when the oils or fats bond with another liquid through mixing. This is usually aided by eggs and other dry ingredients to bring things together in a glossy mix. In time, you'll be able to hear the change in sound when something has emulsified, like a true Jedi baker.

This can be made with hazelnut flour instead of ground almonds; it's pretty much a straight swap, assuming that the coarseness of the milled ingredients is the same. You could try out some other nut flours too.
FAQs
Can you freeze your vegan brownie?
Yes, absolutely, it will freeze perfectly and keep for months. Just keep in mind that added brittles, nuts and other crunchy additions may lose their snap and bite from being in the freezer.
How long does vegan brownie last in the fridge?
Months, keep it in an airtight container and it'll be perfectly fine for months. Even out of the fridge this brownie will keep for a few weeks.
How do I stop the brownie from splitting?
Whip those eggs and whip them good. As a last resort, you could add some gluten free flour, we'd recommend Doves.
Are these suitable for coeliacs?
Yes, but you must use gluten free oats. For some tips on cross contamination from Coeliac UK click here.
Summary
This an epic stand alone gluten free brownie recipe. But if you feel inclined to add some extra stuff. Salted caramel, whole nuts, white chocolate or a teaspoon of miso to add some depth.

To make the salted caramel version of this recipe, check it out here.
Why Exploding Bakery Gluten Free Brownies Kick Ass
Fortnum & Mason: This is a brownie fit for a king, that's why we use this recipe for the brownie we make for Fortnum & Mason.


No Gluten: We like to use almond flour instead of conventional wheat flour. Our regeneratively grown almonds from Food & Forest add so much flavour compared to gluten free flour.


Real Chocolate: We choose the best single origin chocolate in the world from our friends at Luker Chocolate. This high quality cacao is also one of the most ethically grown chocolates in the world too. A double win.
Our Cookbook
We've got tons of recipes like this, check out our baking book for more. One cake tin, 90 unbeatable recipes and a lot of fun.
Start with the basic recipes and work your way towards the technical chapter of the book.
All the recipes in the book are designed to work in one size tray to make life easier.
Regardless of what cooking experience you have, from beginners to the well seasoned cooks -  Bake It. Slice It. Eat It - is the cookbook for you.