Recipes
Salted Caramel Brownie Recipe
There's a good reason why our Salted Caramel Brownie recipe is such a winner and a bestseller at The Exploding Bakery. We sell more of this brownie in our cafe, online and to wholesale customers than any other brownie or cake. Click here to check it out, or scroll down for the recipe.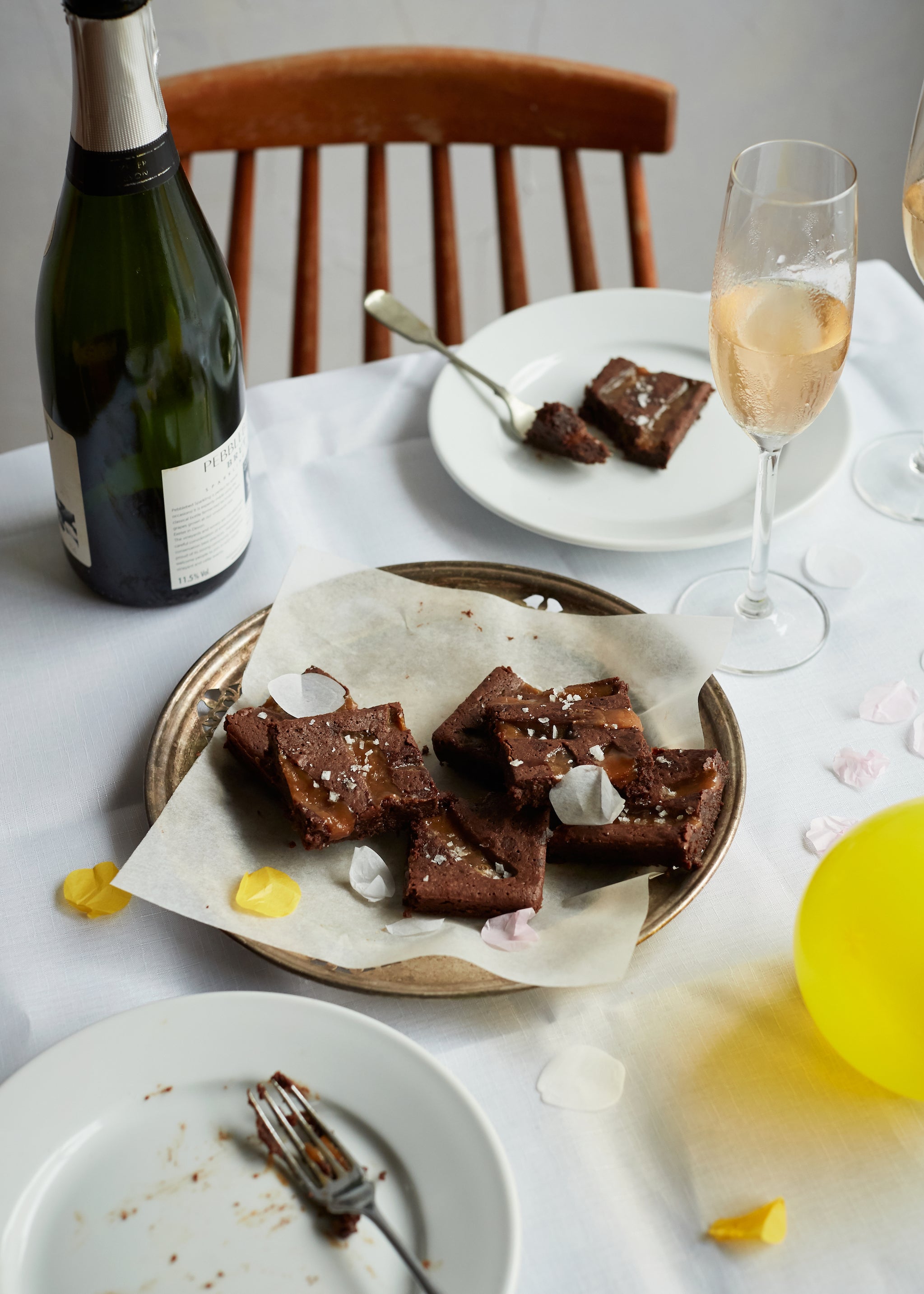 Salted Caramel Brownies: Unleash the Explosion
Ever thought about diving into a world where dark chocolate collides with salted caramel? Well, dream no more. We're talking about brownies that are more than just a treat; they're an explosion of flavours that'll make your taste buds dance. Picture this: layers of deep, dark chocolate intertwined with homemade salted caramel, creating pockets of gooey goodness. It's a caramel lover's dream!
Salted Caramel Brownie Recipe (Gluten Free)
Caramel Ingredients
80g (3oz) golden syrup
110g

(3¾oz)

caster (superfine) sugar
100ml

(3½fl oz) double (heavy) cream
a pinch of salt
40g

(1½oz)

chilled butter
Brownie Ingredients
375g

(13¼oz)

dark chocolate, broken into small

pieces
375

g (13¼oz)

butter
300

g (10½oz)

caster sugar
6 medium eggs
225g (8oz) ground almonds
½ teaspoon salt
½ teaspoon sea

salt flakes
Method
Preheat

the oven

to 160°C fan/320°F/gas

4 and line two 22

x

33 x

5cm (8½ x

13

x

2in) baking

trays (sheet

pans).
To

make

 

the

salted

caramel,

heat the golden

syrup and sugar in

a heavy- based

saucepan

over a medium

heat,

tilting

the pan from

side to side so the melting

sugar and golden syrup get acquainted.
Bubble

away in

the pan for a few minutes

until

the contents

begin to darken and give off

a whiff

of toffee. At this point, whisk

in the cream

and salt, along with half of the butter.

Keep it bubbling away

until

the colour of the

caramel becomes as dark as you

dare, then whisk in

the

remaining butter until it's

fully melted.

Pour the

hot caramel into

one of your prepared trays and pop it in the freezer to set – this way,

you can use

it much

sooner.
Now make

the brownie mix

by melting

the chocolate

and butter together in a bain-marie,

stirring

occasionally,

until

they are combined and silky

smooth.

Pour the

melted chocolate

and butter into

a large mixing

bowl or the bowl of your stand

mixer

and add

the sugar. Give it a quick stir,

then beat

in the eggs

until

the mix

emulsifies,

becoming smooth and glossy and starting

to pull away

from

the sides

of the bowl without sticking to it.

 

Finally, fold in

the ground almonds and salt

until fully combined, then pour the mixture

into your second

lined tray.
By

this point,

the caramel should be brittle enough

to smash

into shards, but if it's

soft,

you can cut

it into

slithers and chunks and

place

them on top of the

brownie mix.

A

random

pattern is good. If you do

have shards, stick them upright into

the batter, so they

melt down

into pools, but still reach deep

into

the brownie.

Pour the mixture into your tray, 

top with the syrupy nuts and bake for 50–60 minutes. 

This cake is at its best when it's still warm, but it's also great cut into slices 

and toasted. It will keep for a week in an airtight container in the fridge.

Bake for 35–40

minutes.

The brownie

should be just cooked when you take it out,

with a little wobble in the middle,

and the caramel

will

bubble up a bit at the sides. Allow it to fully

cool

in the tray,

then sprinkle some sea salt flakes

over the top and serve. Best

eaten

once

fully

cooled. This will

keep for 2

weeks in

an airtight container in the fridge.
To make a more refined version of the caramel, pick up a thermometer and head over to this recipe. If you're really struggling to make a set caramel, you can just bake the brownie without it and then pour your liquid caramel over the top when serving.
We also feel it's our duty to remind you about caramel burns – these are the worst, so don't touch the stuff with your finger, however tempting it may be, and best to keep kids out of the kitchen. 
Why Exploding Bakery Brownies Are the Bomb
Authentic Salted Caramel: Forget the store-bought stuff. We're talking about caramel that's crafted with love and passion, offering a richness that's hard to find elsewhere. And we control of the cornish sea salt, striking that perfect balance between sweet and savoury with the Cornish Butter and Cream.
The Brownie Base: This isn't your average brownie. It's fudgy, filled with a melt-in-your-mouth sensation. The fusion of dark chocolate and sweet salted caramel? Pure magic. These are the ones we make for Fortnum & Mason. A brownie fit for a King.
Chocolate Choices: Chocolate isn't just chocolate. We vouch for the 60% cocoa Colombian stuff from Luker Chocolate. It's the perfect balance of sweetness and complex flavour notes. Plus it's good for people and the planet.
Storing the Magic
Keep these gems in the fridge to preserve their awesomeness. As time goes by, the caramel gets a bit chewier, but a quick zap in the microwave, and you're back to that dreamy fudgy state. Serve the warm brownie with cold ice cream as an epic dessert.
For those who are keen on making their own caramel, here is a detailed guide and recipe on how to make French Salted Caramel, as featured in our book - Bake It, Slice It, Eat It.
Alternatively, check out our other brownie recipes here.
Why Send Someone These Brownies:
Gifts are cool, but have you ever received a box of Salted Caramel Brownies? If not, let's paint a picture for you. Imagine unwrapping a box and being hit with the rich aroma of dark chocolate fused with the tantalising scent of salted caramel. It's not just a gift; it's an olfactory explosion!
Here's why Exploding Bakery brownies are the gift that keeps on giving:
A Flavor Firework: Every bite of these brownies is like a mini celebration in your mouth. The deep richness of the chocolate combined with the sweet and salty kick of caramel? It's a flavor party, and everyone's invited.
Mood Lifter: Had a rough day? A bite of this brownie is like a hug for your soul. It's the kind of gift that says, "I get you, and I've got your back."
Universal Love: Let's be real, who doesn't love brownies? They're universally adored, making them the perfect gift for just about anyone. From your grandma to your postman, everyone's day gets a tad brighter with a brownie in hand.
Handcrafted Passion: These aren't your run-of-the-mill, picked-up-from-the-store brownies. They're crafted with passion, love, and a whole lot of flavour expertise. It's like gifting a piece of art, but one you can eat!
Memorable Experience: Sure, flowers are pretty, and cards are sweet, but do they leave a lasting impression? A Salted Caramel Brownie is not just a treat; it's an experience, a memory, a story waiting to be told.
Gluten Free: We don't use flour in these brownies, just ground almonds, with bags of flavour, plus it helps with those who can't eat gluten.
Share The Love: There's up to 9 portions in each brownie, so people can create their own experience. Afternoon tea with the family or dessert with friends. This brownie will make those moments even better.
So, the next time you're scratching your head, wondering what to gift, remember: nothing says "You're awesome" quite like a box of Explodingly delicious Salted Caramel Brownies. Go on, light up someone's day and make their heart go Boom! with joy.
If you missed it, here's our detailed technical recipe to make some serious salted caramel.