Recipes
EXPLODING BAKERY RHUBARB CRUMBLE TRAYBAKE RECIPE
We're big on using seasonal ingredients whenever possible and have already spotted the first juicy rhubarb stalks poking out. If you're looking to bake a cake that packs a punch, our Rhubarb Crumble Cake is the spring season's go to. If your rhubarb is still a bit shy and hiding, this recipe will most likely work with any soft fruit.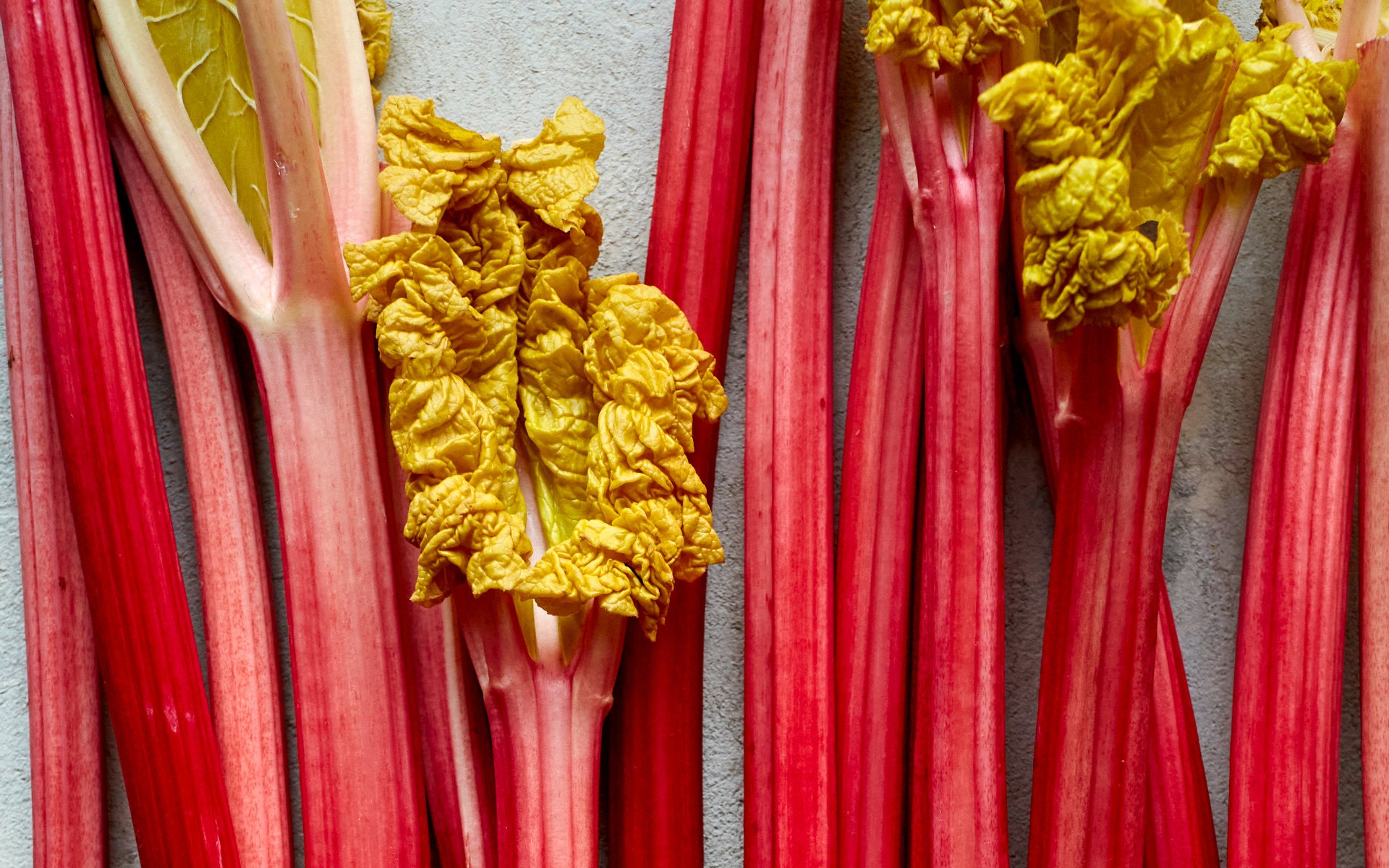 As far as we know, it's a crime to make a small crumble. You'd have to be a real piece of work to entertain the idea of making 'just enough', and most people get so enthusiastic when it comes to this pudding that they over-cater with wild abandon, leaving crumble on the menu for days afterwards. This recipe takes the crumble into sturdier territory, creating a movable feast that can be eaten anytime, anywhere, but is most likely to be scoffed hot with ice cream after your Sunday roast.
TO MAKE THE BASE AND TOPPING
400g (14oz) plain (all-purpose) flour
200g (7oz) sugar
100g (3½oz) ground almonds
300g (10½oz) butter, cold and cubed
a pinch of salt
a splash of cold water (20–30ml/ 1½-2 tablespoons)
100g (3½oz) flaked almonds
TO MAKE THE FILLING
600g (1lb 5oz) forced rhubarb, chopped
200g (7oz) caster (superfine) sugar
1 teaspoon vanilla extract, or the seeds from 1 pod
finely grated zest and juice of 1 orange
RHUBARB CRUMBLE CAKE RECIPE
Preheat the oven to 160°C fan/320°F/gas 4 and line your 22 x 33 x 5cm (8½ x 13 x 2in) baking tray (sheet pan).
For this cake, you make the base and topping together in one bowl. Start by adding all the ingredients, except the water and flaked almonds, to a large bowl. Rub together with your hands until you get a breadcrumb-like consistency. Then, remove half the mixture and place it in a separate bowl, mixing in the flaked almonds. Add a splash of cold water to the mixture still in the original bowl and work it into a pastry with your hands until it forms one large clump.
If you like to be precise with your baking, you can roll this out using a rolling pin and then place it in the lined tray, or you can just go for the more rustic approach and press it into the base of the tray with the palms of your hands. Whichever method you use, make sure you get a good even spread. Bake for 30 minutes, or until it begins to colour.
Meanwhile, make the filling by mixing together the rhubarb, sugar, vanilla and orange zest and juice in a heavy-based saucepan over a low heat. Let this stew, stirring occasionally, for 10-15 minutes until the rhubarb starts to relax and soften a little, then turn off the heat.
When the base has finished baking, it should be firm and slightly browned. Remove from the oven and top it with the stewed rhubarb, spreading it out evenly with a spatula. Sprinkle the reserved crumble and flaked almond mixture over the top. Increase the oven temperature to 170°C fan/340°F/gas 5 and bake for a further 35-40 minutes, or until the crumble topping starts to get a little colour.
Best served warm with cold custard, but you can always snack on a cold slice in the middle of the night, standing in your dressing gown.
This will keep for up to a week in an airtight container in the fridge.
This recipe will work with almost any soft fruit, although you might need to adjust the lemon and sugar quantities to balance the acidity and sweetness. Fill the crumble with peaches, plums and apricots, or the classic mix of apple and blackberry. Summer berries, gooseberries, pineapple or mango would also be a welcome change. Herbs like lemon thyme or rosemary can add depth.